Shingles
Modified Bitumen Torch Applied Roofing
Clay and Concrete Tiles
Skylight Replacement and Skylight Leak Repairs
All Kinds of Roof Repairs
Tear Off of Existing Roofs
Fascia Board Replacements
Plywood Installation
Including Residential and Commercial Buildings.
Hot Mop Roofing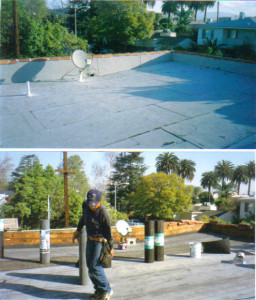 Decades of use indicate the value of hot mop roofing. The name creates a visual image of someone spreading the ingredients across the top of a dry flat roof with a mop-like applicator. That is a close description, with the roofing done in sections. The surface is protected by a bottom layer sheet and felt layers above. Hot asphalt is swabbed across each layer and finally across the final layer, creating a waterproof membrane. A layer of aggregate sprinkled across the last coat of asphalt produces a durable roofing style less than an inch thick with an estimated life of 15 to 25 years.
Each part supports the other. The asphalt fuses the felts to establish a waterproof barrier while the felts provide reinforcement for the asphalt to diminish cracking. Aggregate shields the asphalt from the sun's degrading ultraviolet rays, as well as providing protection to the membrane surface.
Items to consider before choosing this type of roofing method include flashings, vents and climate. The old roof must be removed before the new one can be put on.
Wood and Asphalt Shingles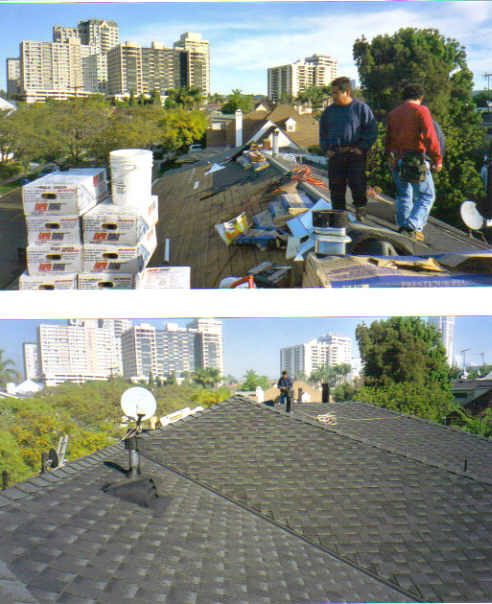 Every roof needs a good foundation and shingled roofs are no exception. A protective waterproof underlayment and edging is placed around the lower portion of the roof and edges. An underlayment of asphalt-saturated felt is layered across the roof. Upper pieces are placed to overlap lower pieces. Other than adding to the aesthetic beauty of the finished roof, it provides protection against wind-driven rain slipping up under the shingles as well as resistance to fire.
Shingling starts from the edge of the roof and works upwards. Like the underlayment, the upper shingles overlap the lower ones that have been nailed in place. Wood and asphalt shingles come in a variety of colors and patterns. Rectangular asphalt strip shingles come with an adhesive strip that is put on at the factory. After installation, the sun activates the adhesive, sealing shingles to the layer below. The resulting strength protects against wind uplift and increases water resistance. The average life of this type of roof is 12 to 15 years.
Clay, Concrete and Slate Roof Tiles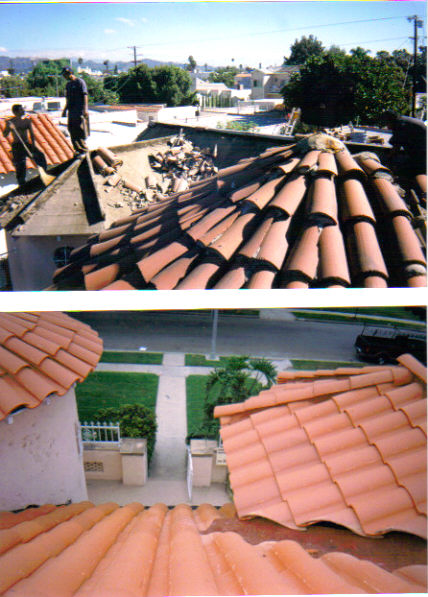 Roof tiles have an average life span of 45 to 60 years and beyond. It is considered a permanent roof because of its longevity, so a roofing contractor should mention the importance of proper installation. Tiles can be formed or cut to fit around skylights, chimneys and over uneven roofs. Proper installation of flashings and underlayment is a matter of skill.
Of all the roofing types, tile is the most demanding. Bracing requirements to hold the roof vary from little to none. Energy efficiency is increased because placement allows ventilation. Cooling costs are lowered in summer while the tiles help maintain a balanced temperature during winter.
Clay and concrete tiles are a green way of roofing because natural resources are not depleted to make them. Chemical preservatives are not used, so old tiles are easily recycled to create a variety of other products or more new tiles.